The Undercliff in the 19th Century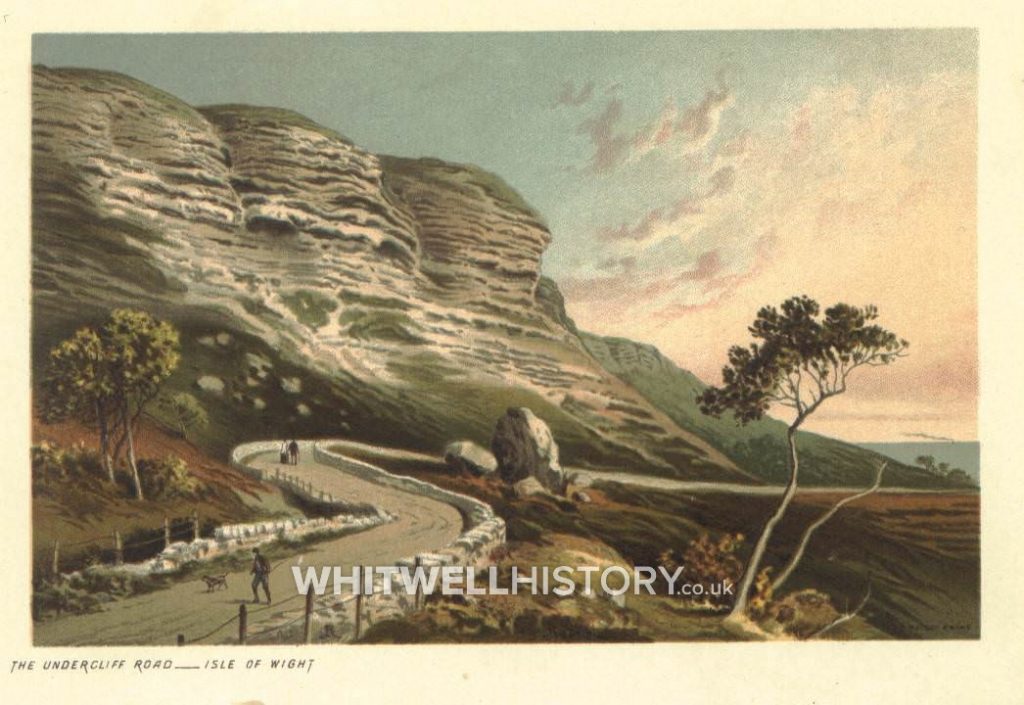 Undercliff Road viewed from "Windy Corner" looking east towards St. Lawrence
The Undercliff area of Whitwell consisted of three properties:-Mirables, Old Park Farm, and Wrongs, or Rans, Farm
Pilgrims Progress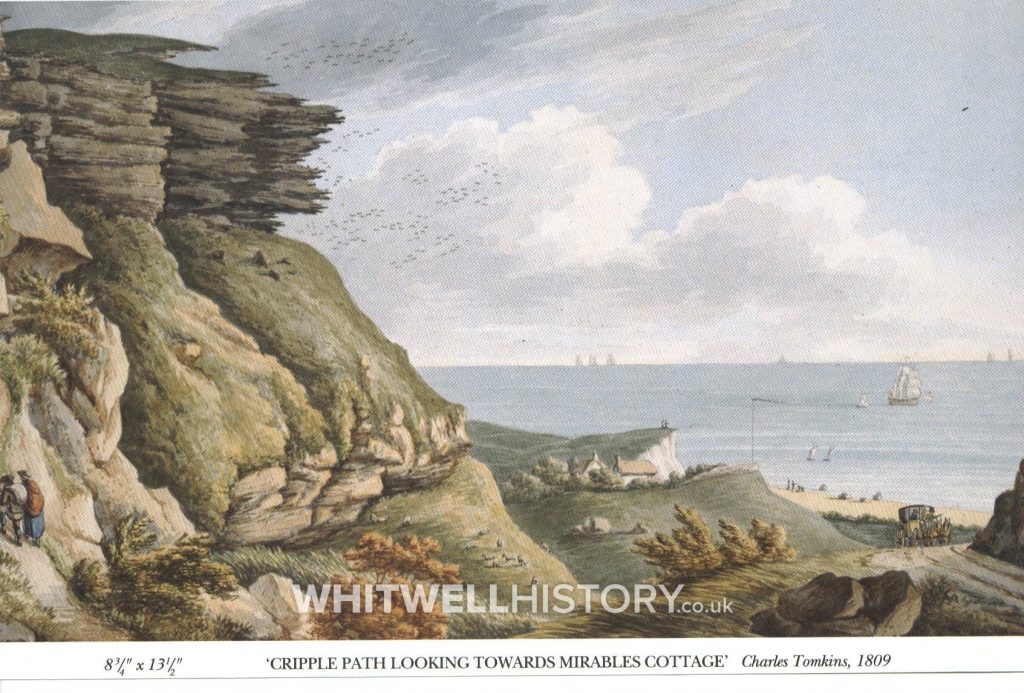 The Rev. S. Hayton, Rector of Niton 1859-1884, related that he heard from a very old woman living in Niton, that she had been told by her grandmother, that there was a famous cross at Whitwell Church, and that the Pilgrims used to make their pilgrimage to the Lady of Whitwell via the Cripples Path from the Undercliff.
An octagonal crucifix shaft was found when taking down the chancel wall during the Whitwell Church restoration of 1868.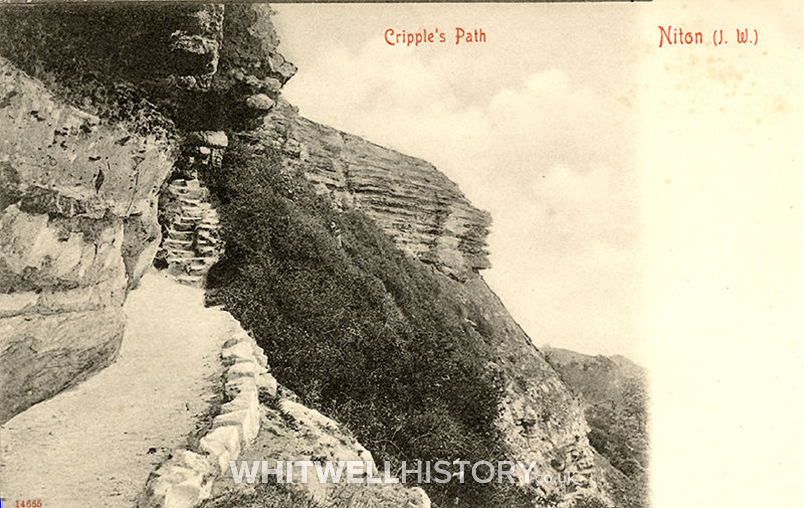 Although a recent rock fall has blocked the pathway, it is hoped that the walk will be re-opened. The Pilgrims Way to the church has been signposted and explanatory boards erected along the route.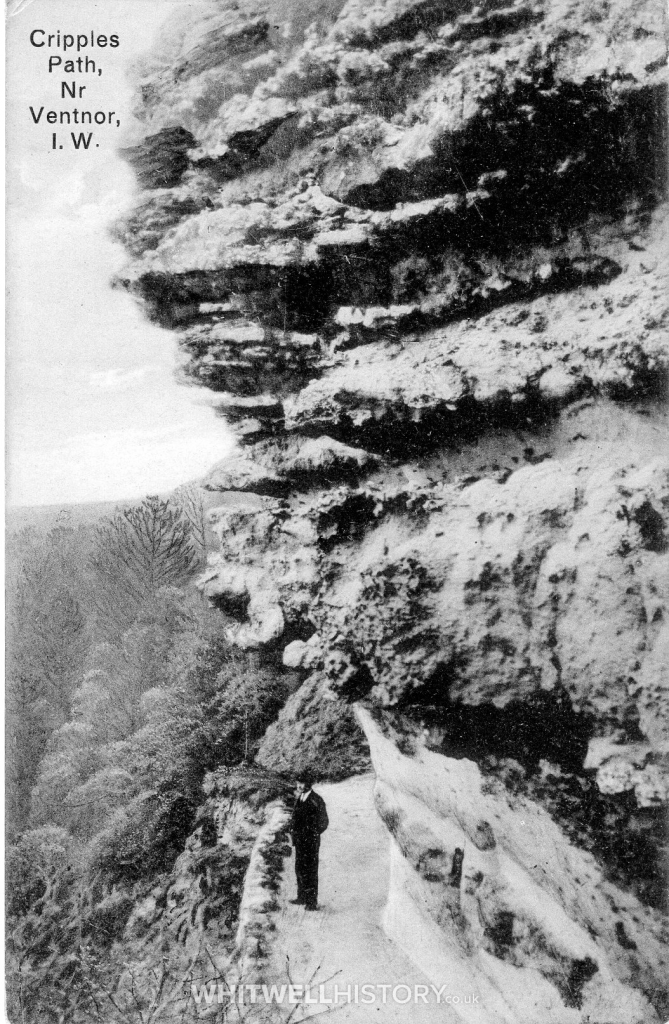 A welcome pause to admire the view to the west whilst climbing Cripple Path
Woody Bay Cottages, Coastguard Station, St Lawrence
In 1874, General Sir John Cheape of Old Park, granted a lease to the Admiralty, a plot of land containing two roods, together with a right of way, for the purpose of erecting a Coastguard Station, and supplying it thereafter, plus the right to remove goods seized from smugglers. The lease was for 99 years at the yearly rent of £7. 10. 0.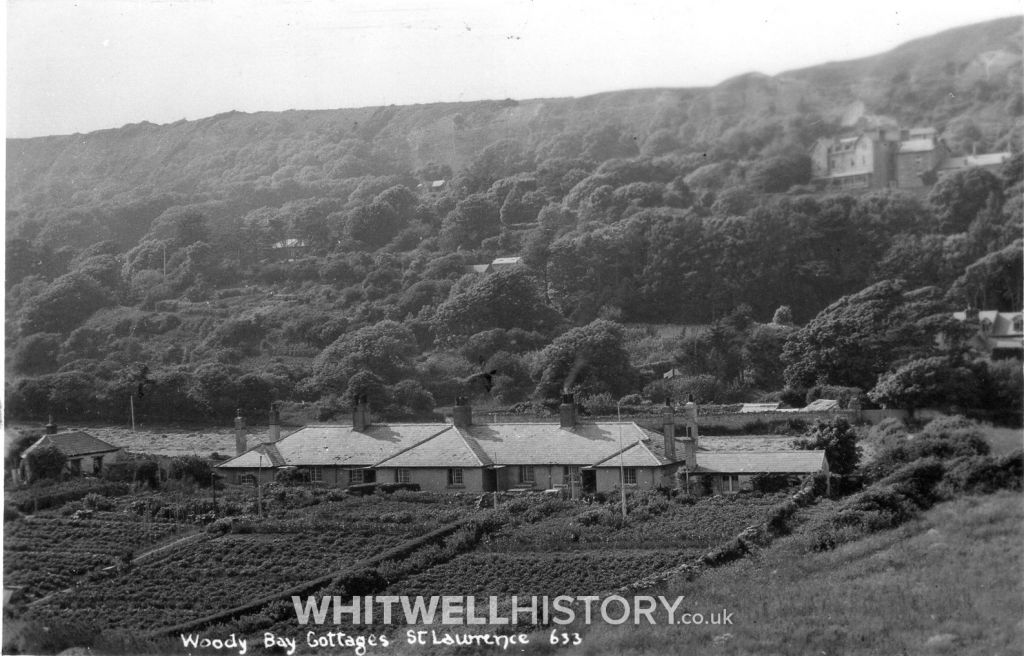 Woody Bay Cottages – old coastguard cottages – with tea garden, and, above right,  The Carfax Hotel and St. Lawrence Inn

In 1911, No. 1 – Woody Bay Cottage was occupied by Henry and Jane Young, Retired Naval Pensioner, Coast Guard.
No. 2 – Emily Trowbridge, widow, and her two sons, Frank and William.
No. 3 – Albert Monk and wife, Estell May.
No. 4 – John Wheeler and wife, Catherine, and family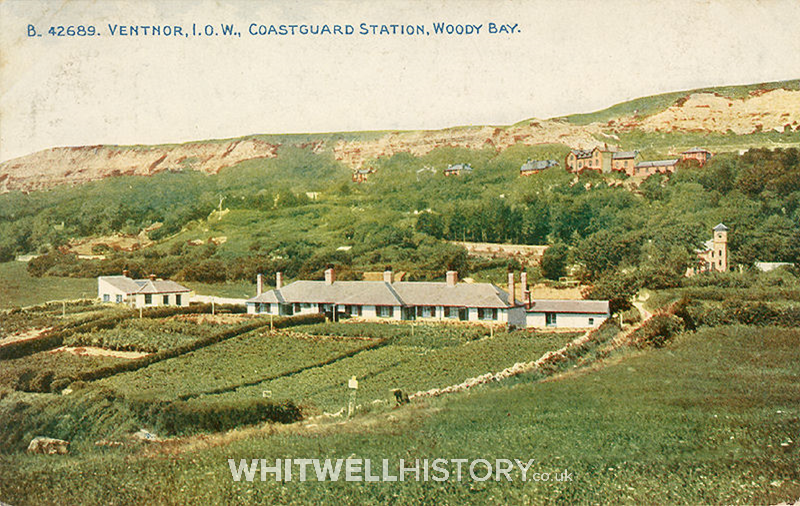 Woody Bay Coastguard Cottages showing Wolverton Manor to the right
The first recorded reference to the station is in 1836 when the child of Coastguard Daniel French was baptised.
1861 census Woody Bay Coastguard cottage 1 Family Hosking. Cottage 2 Family Callaway. Cottage 3 Family Oliver. Cottage 4 Family Knight.
1871 census Woody Bay Coast Guard Station. Cottage 1 Family Wade. Cottage 2 Family Martin. Cottage 3 Family Janes. Cottage 4 Family Tubbs.
1881 census Coastguard Station cottage 1 Family French. Cottage 2 Family Warner Cottage 3 Family Plent, Cottage 4 Family Hurrell.
1901 census Woody Bay Cottages 1 Family Child Coastguard Chief Boatman. Cottage 2 Family Murphy. Cottage 3 Shanahan Cottage 4 Family Kelly.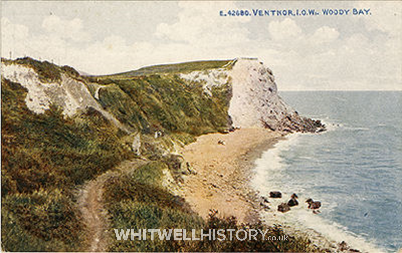 Woody Bay
St Rhadagund
Patron Saint of the De Estur Family of Gatcombe.
St. Rhadagunds Christian Holiday Centre
Established in the 1930's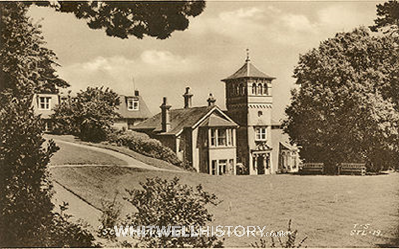 1891 William E Kilburn age 72, died 11 December, retired merchant, East India, wife Louisa age 62, daughter Marie age 35, son Burleigh, age 30 Barrister, Ella age 26.
Servants Elizabeth Jupe, (31) cook, Minnie Plumbley, (20) housemaid, Caroline Bailey, (19) housemaid, Frank Worth, (18) groom.
In 1871 William Kilburn and family were living at Shute Cottage, (whilst St. Rhadagunds was built?).
In 1911 the house was occupied by James MacDougall, Corn Miller
View of St Lawrence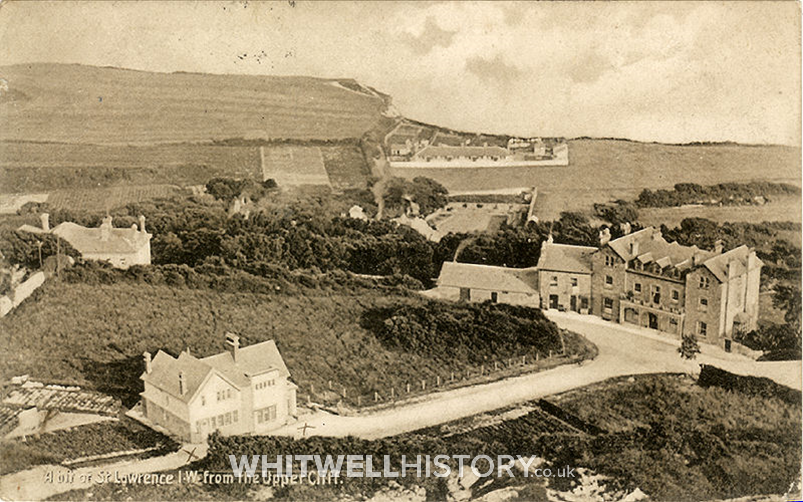 The view of St. Lawrence was taken from the upper cliff showing the Carfax Hotel and the Post Office with Woody Bay Coastguard cottages in the background.
And a similar view with the addition of "Kitty Gell's" house below. In 1911 the Post Office was occupied by George Henry White and family.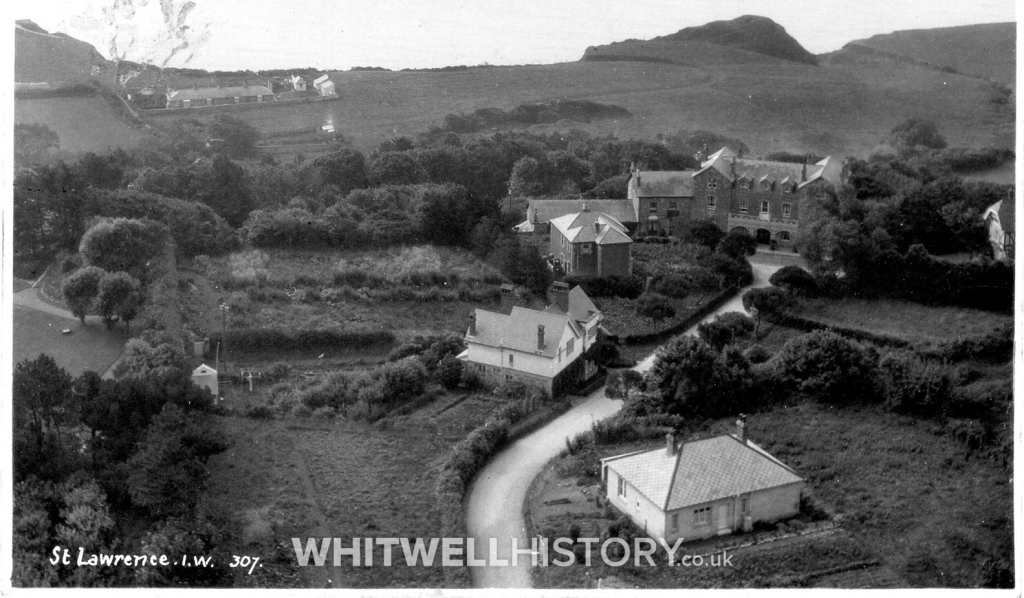 Queen Mary Hedge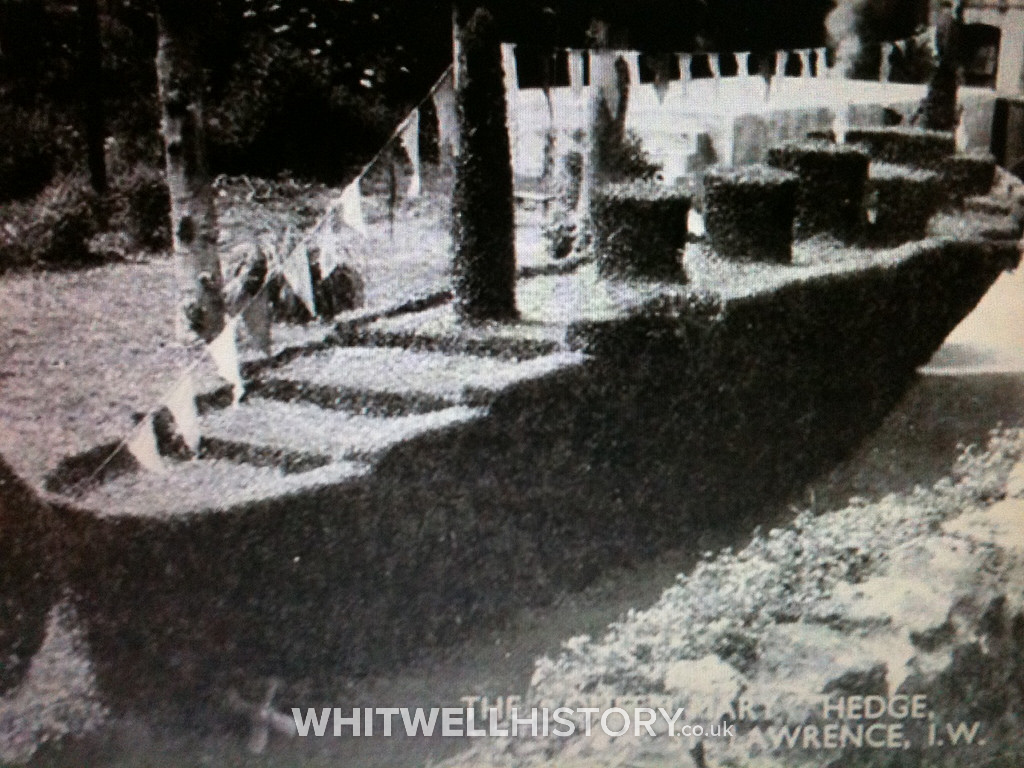 The Queen Mary Hedge viewed from Old Park Road, St Lawrence.
William Theodor Julius Spindler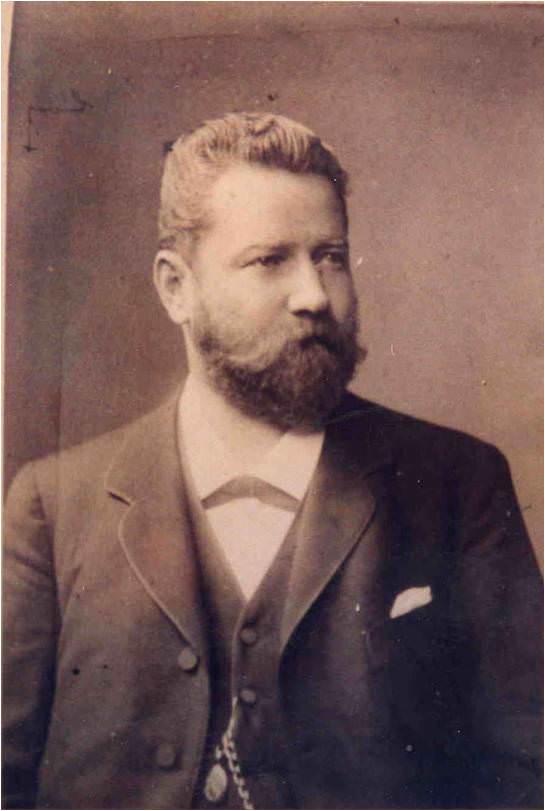 A German industrial chemist from Berlin, Germany, he came to Ventnor in 1873 for personal health reasons. He stayed at Medina Cottage in Ventnor until he negotiated the purchase of Old Park in 1881. Among the many projects he created was the sea wall at Binnel and the installation of 'Red Boys' water stands in Whitwell village.
He also instigated, with others, the building of the road between St. Lawrence Shute and Pine Point, Ventnor, and the road between Kemming Road and Niton.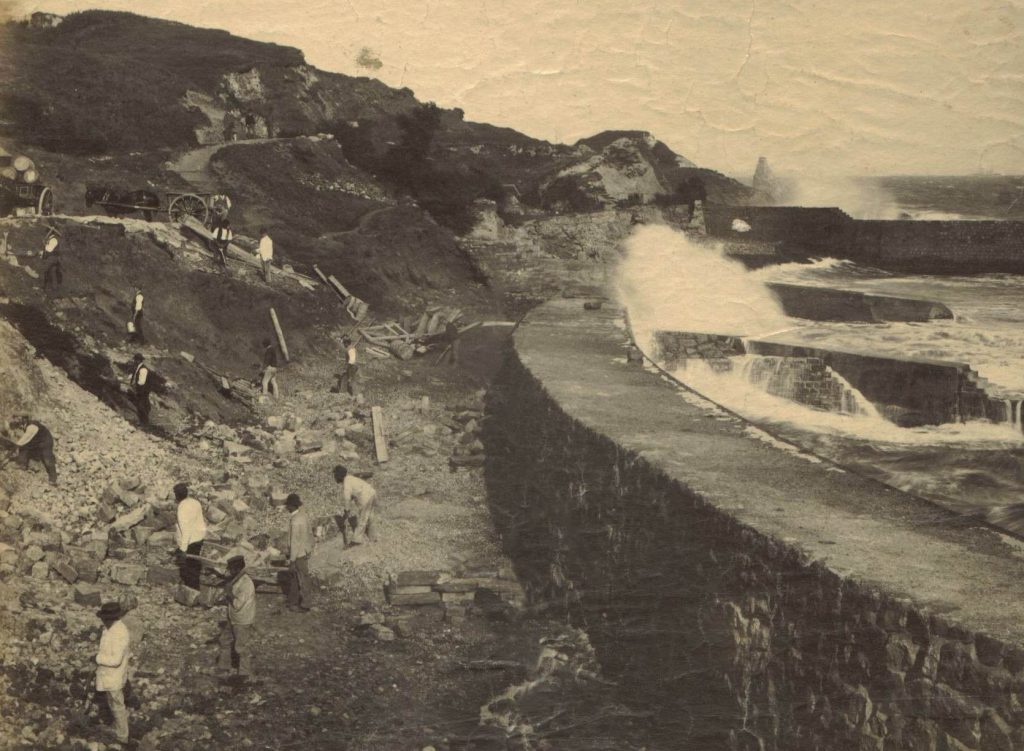 The building of the sea wall at Binnel Bay  provided employment for a lot of locals during the 1880's.
Mr. & Mrs. Spindler presented to the Church a handsome turret clock and a peal of eight bells. Almost the first peal was for the marriage of his daughter, followed a few months later for his funeral.
Mr. Spindler's health gave way in 1889 and he is buried in the south corner of the churchyard.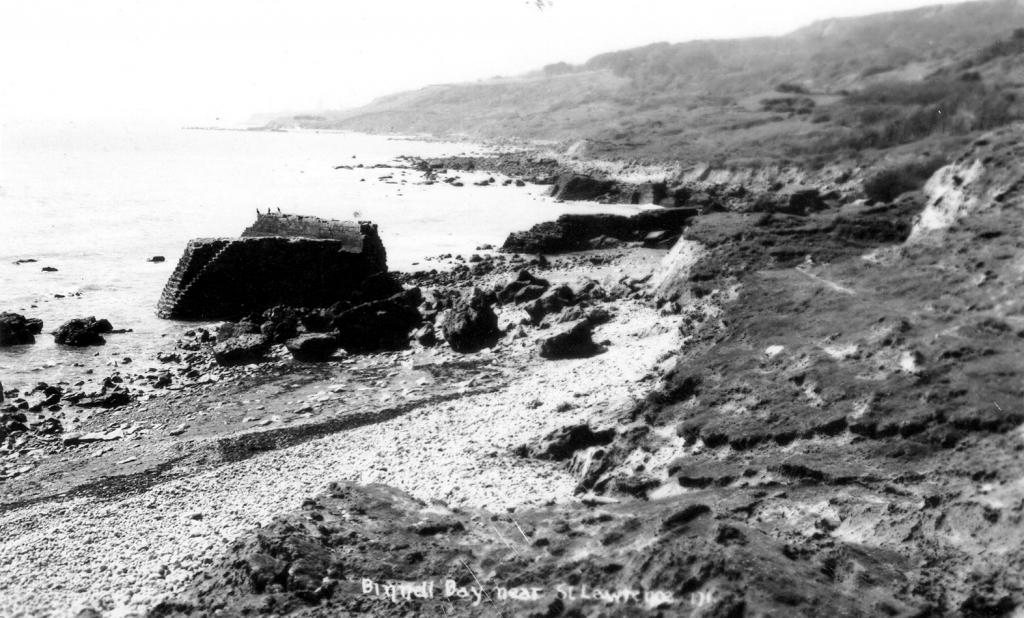 Binnel Bay showing the remains of the Spindler sea wall. Circa 1960.
Benediction of New Bells at Whitwell Church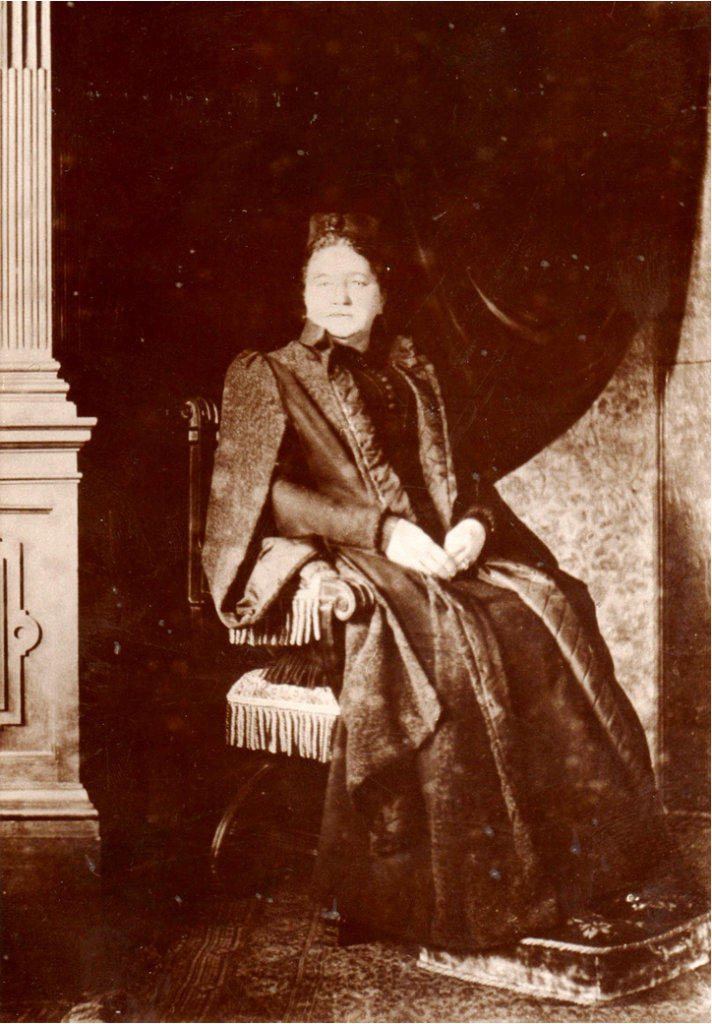 Clara Willimena (Schladebach) Spindler
born 1837 lived at Old Park 1882-1906
County Press, 1 October 1889
"On Tuesday afternoon, last, the [six] new bells presented to the parish church of St.Mary and St.Radagund, by the estimable lady of Old Park, Mrs. Spindler, rang out a joyous peal calling the parishioners to take part in the benediction service.

It may not be out of place to mention that the new clock presented to the church by Mr. Spindler is being rapidly fixed in position in the tower in company with the bells.

Mr. And Mrs. Spindler, who are on the continent, were represented by their daughter Mrs. T. R. Saunders."

Mr. W. Spindler died two months later on 3 December 1889.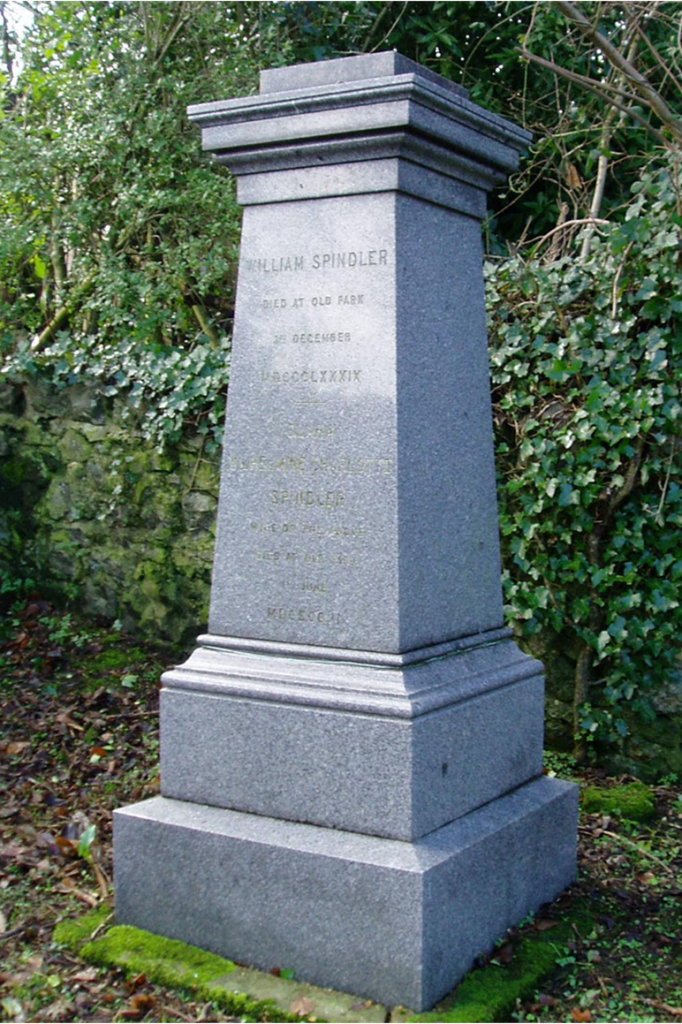 The Spindler Memorial in Whitwell Churchyard.
Major Theodor Saunders
Major Theodor Saunders should be known as Mr. Ventnor, as, during his 45 years as an architect, he was responsible for:-
Ventnor Town Hall, name changed to The Coconut Grove, and has now been converted to flats
Esplanade Pavilion, changed to the Amusement Arcade, which has since closed
St.Lawrence Hall, the home of Dr. John Whitehead,
Craigie Lodge, Pearl's refuge,
St. John's Church, Wroxall,
St. Margaret's Church, Ventnor,
The Royal Spithead Hotel, Bembridge,
The Battenburg Block of the Royal National Hospital,
Capital and Counties Bank, Ventnor,
Artillery and Drill Hall,
Steephill Castle Stables,
The whole of Alexandra Gardens, Ventnor,
The main roads, Ventnor to Whitwell, Whitwell to Niton, and
the Public Water Supply to Whitwell, Brighstone, Wroxall, Niton, Godshill and St.Lawrence.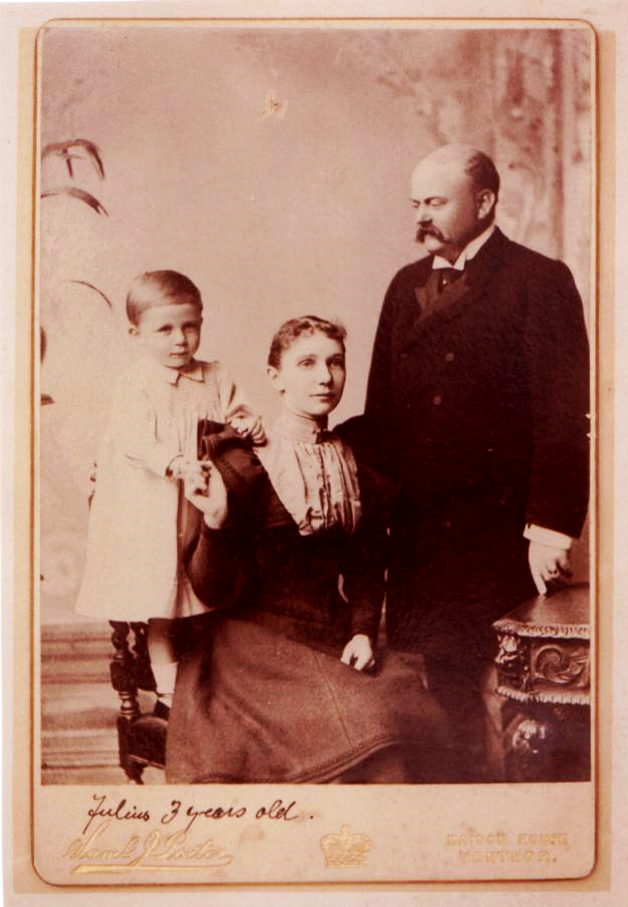 Seen here with his wife, Marie Clara Spindler and son Julius. Taken at their home, Rugens, Park Avenue, Ventnor.